Kids and Teens: Books, Websites, and more
   LIBRARY SCHOOL IS BACK!!
Thursday at 10:30 am - in the Civic Center!
Starting on September 1st
Homework Help
Books for Fun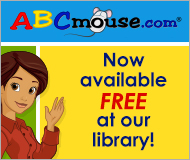 ABCmouse.com: From Age of Learning, Inc., the award-winning ABCmouse.com curriculum is designed to help young children (ages 2-6+) build a strong foundation for future academic success. ABCmouse.com is 100% educational, with over 3,500 learning activities across all major subject areas – reading, math, science, social studies, art, and music. Best of all, kids love it!
Khan Academy is a website of resources available to anyone. They have a large video library and practice exercises that cover K-12 math and sciences. Videos are only about 10 minutes long with information about specific topics. Exercises allow for individual pace and provide hints.
Suggested Book Lists for:
Children's Books About Death and Dying
http://childrensbookguide.com/death
Children's Books About Death and Grief
http://www.whatsyourgrief.com/childrens-books-about-death/
National Association For the Education of Young Children
http://www.naeyc.org/files/tyc/file/Childrens%20Books%20About%20Death.pdf